EXTREMELY URGENT UPDATE:  THIS IS A PDS WATCH.  THIS IS AN EXTREMELY DANGEROUS SITUATION
ONE OF THE SEVERE PARAMETERS, CRAVEN BROOKS VALUE…OF 45,000+ MEANS WIDESPREAD SEVERE WEATHER IS LIKELY, INCLUDING MULTIPLE SIGNIFICANT HAIL/WIND/ AND/OR TORNADO IS LIKELY.  THE GRAPHIC FOLLOWING THIS WATCH, WHICH IS REAL TIME MESO-ANALYSIS, INDICATES CRAVEN BROOKS VALUES OF 100,000 to 110,000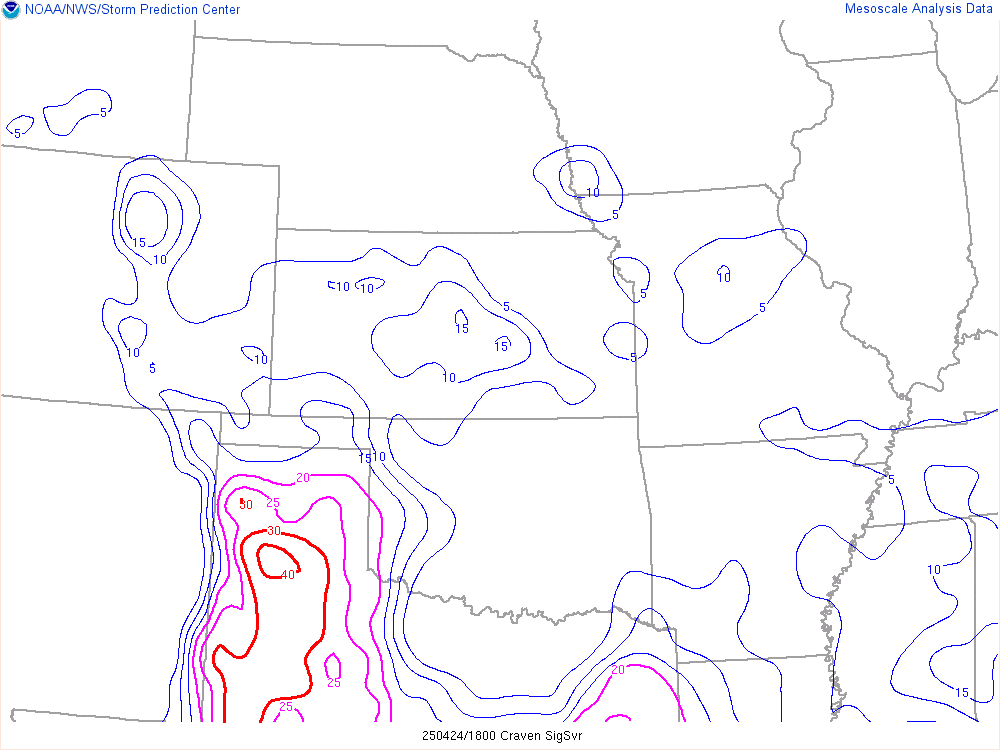 Good day everyone!
PARAMETERS INDICATE A SEVERE OUTBREAK THIS AFTERNOON INTO EVENING.  THIS IS A PDS (PARTICULARLY DANGEROUS SITUATION), AND HAS THE POTENTIAL TO BECOME A DEADLY SCENARIO

SPC PUBLIC SEVERE WEATHER OUTLOOK
http://www.spc.noaa.gov/products/outlook/pwo.html
The Storm Prediction Center (SPC) has issued a MODERATE risk of SEVERE THUNDERSTORMS THIS AFTERNOON INTO EARLY TONIGHT FROM SW MO TO CENTRAL OK…
 …THERE IS A SLGT RISK OF SVR TSTMS FROM NW TX TO THE MID MS VALLEY…WI…AND LOWER MI…
This mornings sounding from Norman, OK indicated a very unstable atmosphere IVO the moderate risk area over OK.  Analysis of F5 Data severe weather software indicates forecast soundings within the moderate risk area to show an extremely unstable atmosphere beginning this afternoon.  Some of the parameters for this afternoon include SBCAPE of 3000-4000 j/kg, LI of -8 or greater, SWEAT values of 425+, and the kicker, Craven Brooks Severe Signature values of between 70, 000 and 90, 000.  The sounding from OUN had already indicated this morning, a Craven Brooks value of 78, 275.  Craven Brooks values of 45, 000 or greater, will generally indicate, although not by themselves, a great risk of Hail, Wind, and or Tornado event.  Based on the parameters analyzed, I believe the greatest chance for a severe event will be in the outlined red area on the following map, with a strong possibility, should forecast parameters pan out, of maybe some isolated, significant, and possibly deadly tornadoes in the pink hatching.
Residents in the moderate risk area, as well as the slight risk area should monitor NOAA Weather Radio, local NWS office statements, and local EM official statements, especially in the moderate risk area.  These storms should begin to initiate around 1:00 p.m. CDT through eerily evening.  Please check the following maps for real time updates.
SPC CONVECTIVE WATCHES DISPLAY

SPC MESOSCALE DISCUSSIONS DISPLAY

NWS HAZARD AND WARNING DISPLAY

INTELLICAST NWS DOPPLER RADAR IMAGERY LOOP

TROPICAL WEATHER OUTLOOK:
A small area of disturbed weather which was the remnant of EPAC system Barbara, has now begun t move inland toward Mexico.  Current and forecast low level steering over the next 48-60 hours indicate a ESE-WNW flow which should allow this energy to continue inland.  Based on my analysis of current low level steering, the thought had entered my mind that this could have potentially rode NW-NNW along the coast, given a slight weakness noted near the TEX-MEX area.
WESTERN ATLANTIC SATELLITE LOOP IMAGERY

Elsewhere, most of the Global Computer models agree on some sort of development in the BOC (Bay of Campeche) within the next 5-7 days.
Looking at the current runs on the models, and projected positions, I believe the GGEM to be a tad bit east on its track, and I am more inline with the GFS/EURO solution at the moment, SHOULD anything develop.  Of course speculating on track of a system this far out is not accurate, and will all depend on strength of the system and steering pattern at that time.
Based on analysis of current wind shear, and forecast wind shear products, I cannot rule out initiation of a Tropical Depression in about 5 days, as 2 other models are fairly much in agreement of wind shear relaxing just enough, with a brief upper level anticyclone developing over the Yucatan Peninsula / BOC area at around 144 hours from now.  Although not optimal, this may allow for a weak system to survive for a few days, however anything that would develop could weaken more before affecting land.  This will however remain to be seen.  Although wind shear is around 20-30 kts in the area, the current upper level winds map does indicate an outflow channel/jet well to the north, indicating the GOMEX/BOC is being partially ventilated.
GFS WIND SHEAR AND ZONAL SHEAR FORECAST

Another area of convection has popped up over the Cayman Island area.  Currently, there is no surface convergence with this, however there is some moderate upper level divergence with this, which could lead to some lowering of surface pressure.  It is unknown at the time if this area could be the catalyst for what the Global models are indicating, but will be monitored as the ERSL 500 mb mean anomaly departure still calls for lowering of pressures over the Yucatan Peninsula area in a few days.  In any case, I will be looking for model agreement and consistency over the next few days on this.
Elsewhere…get this…we have a 1009 mb low off the west coast of Africa.  This is way out of climatology for this time of year, however having thought back this morning on the current state and trend of the IOD, and warmer than avg sst anomalies off the coast of Africa, even though surprising…I'm not too surprised.  Could this hold together?  Possibly…but the furthest I would expect is out to 30, maybe 40W before becoming sheared and deflected north.
Elsewhere, Tropical Storm formation is not expected during the next 5-7 days.
Have a blessed day!
T. F. "STORM" WALSH III
GMCS, USCG (ret)
METEOROLOGIST / HURRICANE SPECIALIST
MEMBER WEST CENTRAL FL AMS 
CERTIFIED SKYWARN OFFICIAL STORM SPOTTER (advanced)
CoCoRaHS OBSERVER