Good day everyone!
Not too much going on today…The SPC doesn't show any severe weather until Wednesday.
The Tropics are quite.  SST anomalies continue to warm slightly off the African Coast and in most of the MDR, while anomalies continue to slowly cool in the Equatorial Eastern Pacific.
CURRENT OPERATIONAL SST ANOMALY MAP



UNISYS SST ANOMALY MAP

WASHINGTON STATE EDU ANOMALY LOOP

Wind shear has recently been within, or below climatology in the three basins.
The current NAO forecast is calling for the NAO to remain positive until after mid month.  This may allow for some cooling to occur in the Atlantic MDR, however, I expect once the NAO shifts downward, these temps will rebound.
NAO FORECAST CHART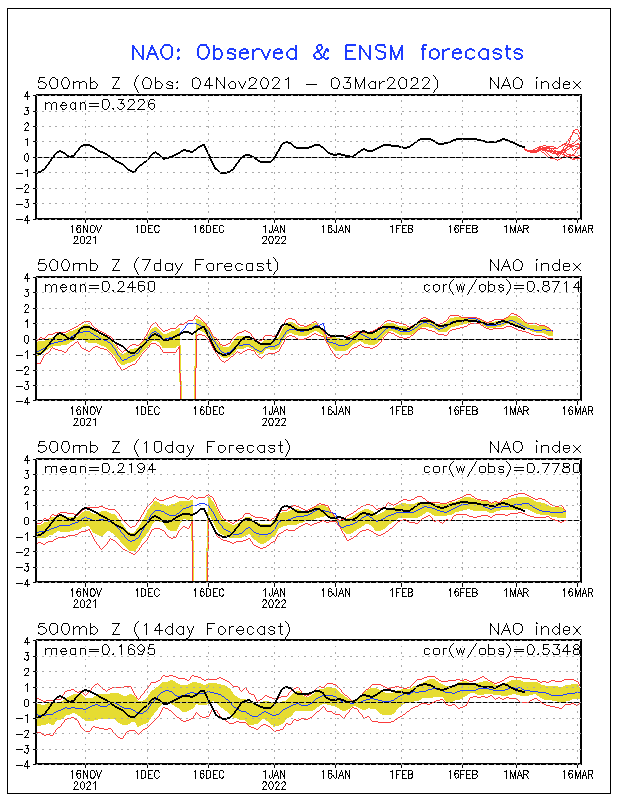 Based on these factors, it appears that a busy season is in fact ahead of us, especially if the sst anomaly trend continues.  I am going to be working out some new storm totals, and will post them tomorrow.  Best estimation of any activity, should the MJO behave in a normal way, could be the week of 3 June, or the week after, being that the MJO "generally' takes about 40 days to complete a trip.
Have a blessed day!
T. F. "STORM" WALSH III
GMCS, USCG (ret)
METEOROLOGIST / HURRICANE SPECIALIST
MEMBER WEST CENTRAL FL AMS 
CERTIFIED SKYWARN OFFICIAL STORM SPOTTER (advanced)
CoCoRaHS OBSERVER