Good afternoon all!
Analysis this afternoon indicates what looks to be a NORLUN TROF type setup in about 4-5 days with the primary, stronger low being just off the coastal areas of Cape Cod and vicinity, bring moisture around to a secondary low centered north of the Great Lakes region,  just north of the Canadian border.  As the primary low sets up off the coast, snowfall totals may be heaviest to the NW of the center, and appears the Computer Model Output for snowfall accumulation targets the PA. area.
With this type of setup however, exact location and amounts of snowfall can be difficult to pinpoint, depending on whether or not this feature moves, becomes stationary or moves quickly or slowly.  Isobar spacing is suggestive of some possible minor coastal flooding around VT and ME area at the time of high tide.  I will be monitoring this for any changes over the next couple of days, and will hopefully be here to keep you updated.
Elsewhere, if you remember my forecast from the 12th of the month, my analysis revealed to me that there could be a possible severe weather threat for a portion of the Ohio and Tennessee Valley, around 5  days from that date.  The following was the map I posted on the 12th:
Low and behold, the Storm Prediction Center has indicated the possibility for the Ohio Valley in the DAY 4 Probability Outlook
I will monitor this for any changes in location, and will update should any changes occur.
The AO is now indicating a possible Arctic outbreak as it's forecast to become strongly negative near the 21st-23rd of the month.  Right now, it appears the blast will be confined north, and into the NE and New England areas.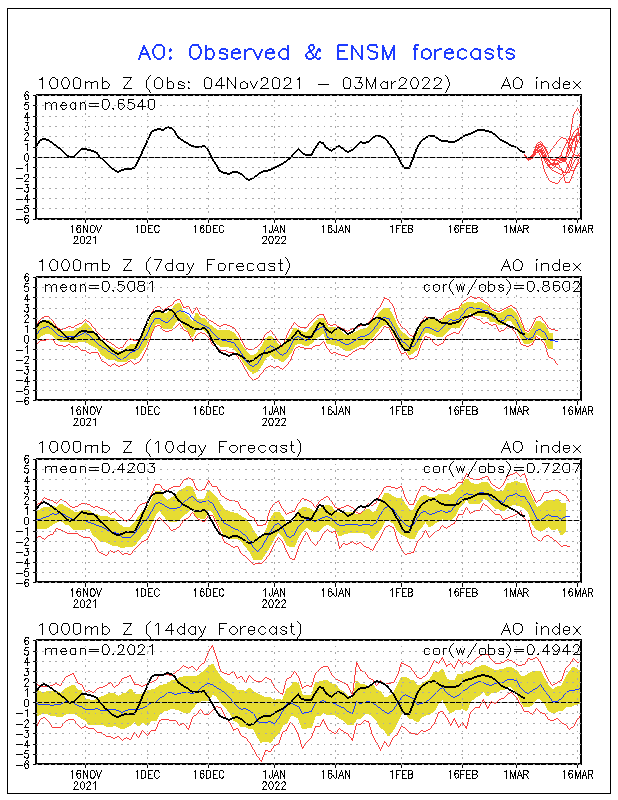 GFS 850 MB FORECAST TEMPERATURES

Have a blessed evening!
T. F. "STORM" WALSH III
GMCS, USCG (ret)
METEOROLOGIST / HURRICANE SPECIALIST
MEMBER WEST CENTRAL FL AMS 
CERTIFIED SKYWARN OFFICIAL STORM SPOTTER (advanced)
CoCoRaHS OBSERVER