Good afternoon!
The Storm Prediction Center (SPC) has indicated a SLIGHT risk of Severe Thunderstorms for portions of  ARKLATEX…GULF COASTAL PLAIN FROM E TX TO SWRN GA AND FL PANHANDLE…
SPC DAY 1 DAMAGING WIND PROBABILITY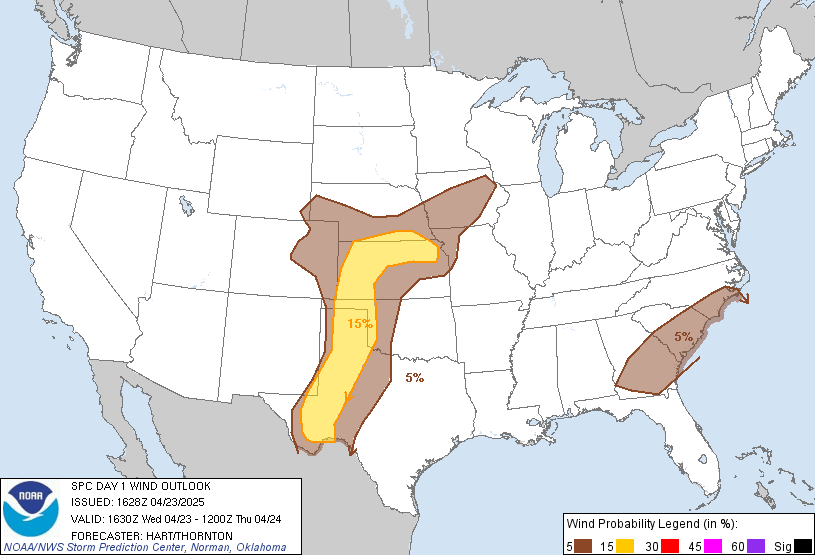 SPC DAY 1 HAIL PROBABILITY

Based on information contained in the outlook, and the current run of the SREF model, thermodynamics support mainly squall line type severe storms.  However, it is forecast that ample moisture and increasing SW – SSWLY shear will support more supercell type storms.  Given PWATS of 1.25 – 1.50 in…heavy rain could cause localized flooding.  The strengthening E. TX cold front, along with  modest surface heating, greater upper level divergence, and large scale ascent, should support thunderstorm development near and ahead of the advancing cold front.  These factors are forecast to "bust" the EML cap, which would initiate severe storms.  Given the increased prob of increasing instability, tornadic activity may be more prevalent in the risk area than we've seen over the past few days, however tornadic activity today may be more active closer to the warm front.  Later tonight and early Tues., influx of moist Maritime air could set conditions favorable for isolated strong tornadoes in the FL. Panhandle, and far S. GA.  Residents should keep a sharp awareness toward the sky today, and monitor NOAA Weather Radio.
Please use the following maps for updated real time information by clicking on them.
INTELLICAST INTERACTIVE NWS DOPPLER RADAR

Have a safe day!
T. F. "STORM" WALSH III
GMCS, USCG (ret)
METEOROLOGIST / HURRICANE SPECIALIST
MEMBER WEST CENTRAL FL AMS 
CERTIFIED SKYWARN OFFICIAL STORM SPOTTER (advanced)
CoCoRaHS OBSERVER