LATE UPDATE:  The SPC issued a very small SLIGHT risk area over the FL. Panhandle just after 2:00 p.m. EST today.  The main threat appears to be wind, possibly some hail.  There is also a SLIGHT risk now in the Day 2 Outlook.  This will be analyzed in the morning.
SPC CURRENT DAY 1 OUTLOOK

SPC DAY 2 OUTLOOK

Good afternoon everyone!
The Storm Prediction Center does not indicate any Severe Weather threat over the next 5 days.  However, with another system approaching, I will keep an eye on this and will be analyzing things as the week goes on.
Elsewhere, there are varying differences in the Global Model projections this morning, however if the GFS is correct in it's solution, the area which just went through the winter storm, could see the same, if not worse scenario late weekend to first day of next week.  The GFS solution indicates a very powerful 968 mb low to be in position off the U.S. East Coast by Sunday, over the NJ/Long Island area.  This strength of low can produce hurricane force winds.  This solution has some support from the CMC GGEM model, while the ECMWF is much further east and weaker.  Should this come to fruition, another round of Blizzard conditions, extreme snow, and freezing weather could be in store again for the NE and New England states.  Being this is fairly out in the medium range, I'll be analyzing further model runs for any changes to either model output.
The AO index has backed off quite a bit on the negative dip near mid month, meaning we may not see an Arctic intrusions as previously forecast.  Polar air will cover most of the U.S. however, with fairly cold minimum temperatures for this week, with the extreme southern Gulf coast region staying fairly mild.
AO INDEX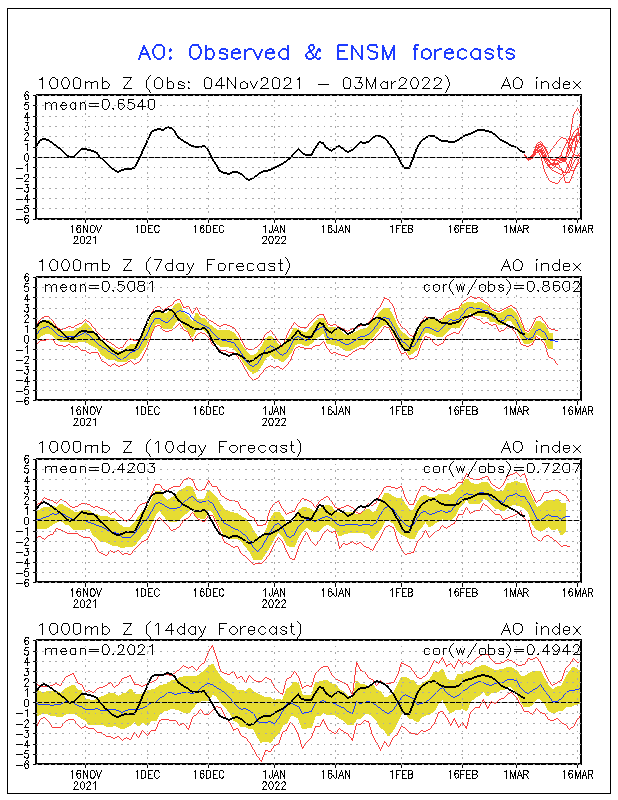 GFSX MINIMUM TEMPERATURE FORECAST

Have a blessed day!
T. F. "STORM" WALSH III
GMCS, USCG (ret)
METEOROLOGIST / HURRICANE SPECIALIST
MEMBER WEST CENTRAL FL AMS 
CERTIFIED SKYWARN OFFICIAL STORM SPOTTER (advanced)
CoCoRaHS OBSERVER