Good day everyone!
Finally a break in the severe weather.  The SPC does not indicate any severe weather threat over the next 5 days.
Elsewhere, forecast minimum temperatures look to remain freezing to below freezing over much of the U.S. for the remainder of the next 7-10 days.  Although on the other side, maximum daytime temperatures are trending much milder over the majority of the U.S.
ETA MINIMUM TEMPERATURE FORECAST

GFSX MINIMUM TEMPERATURE FORECAST

ETA MAXIMUM TEMPERATURE FORECAST

GFSX MAXIMUM TEMPERATURE FORECAST

We may see the milder temps hang on until around day 5-7 in the period, when colder air appears to intrude into the Northeastern and New England States, based on computer model output involving the next low pressure area to slide off the east coast, showing a trof in the 500 mb level over the aforementioned areas..  However, I am going to monitor this to see what exactly may pan out, as  the AO is forecast to remain in the positive side of the scale for the next 7-10 days, which should keep any arctic air suppressed.
ECMWF 1000-500 MB THICKNESS (COURTESY OF UNISYS WEATHER)

GFSX

GFS SNOWFALL ACCUMULATION 120 HOURS

ARCTIC OSCILLATION INDEX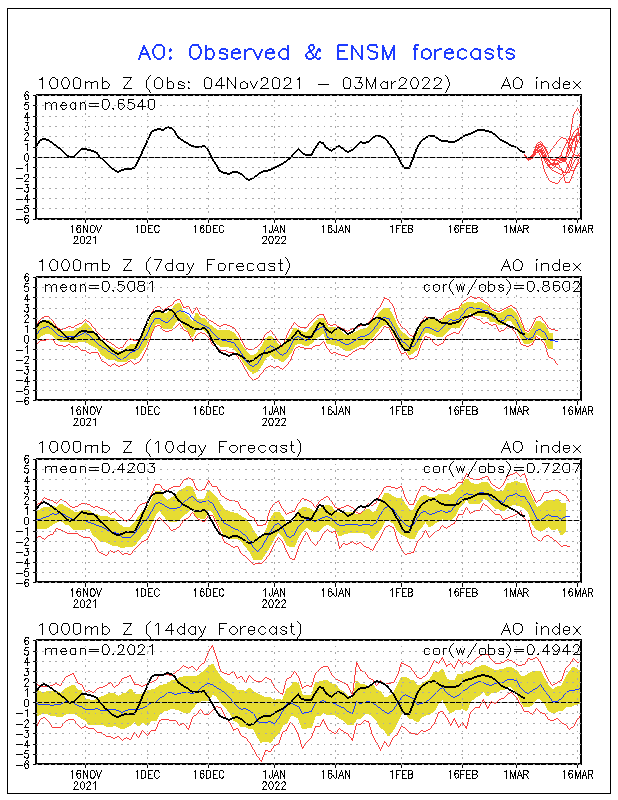 Have a blessed day!
T. F. "STORM" WALSH III
GMCS, USCG (ret)
METEOROLOGIST / HURRICANE SPECIALIST
MEMBER WEST CENTRAL FL AMS 
CERTIFIED SKYWARN OFFICIAL STORM SPOTTER (advanced)
CoCoRaHS OBSERVER