Good day everyone!
The Storm Prediction Center, Norman OK. has issued a SLIGHT risk of Severe Thunderstorms over portions of MO TO ARKLATEX AND MS DELTA REGIONS…
SPC DAY 1 TORNADO PROBABILITY

SPC DAMAGING THUNDERSTORM WIND PROBABILITY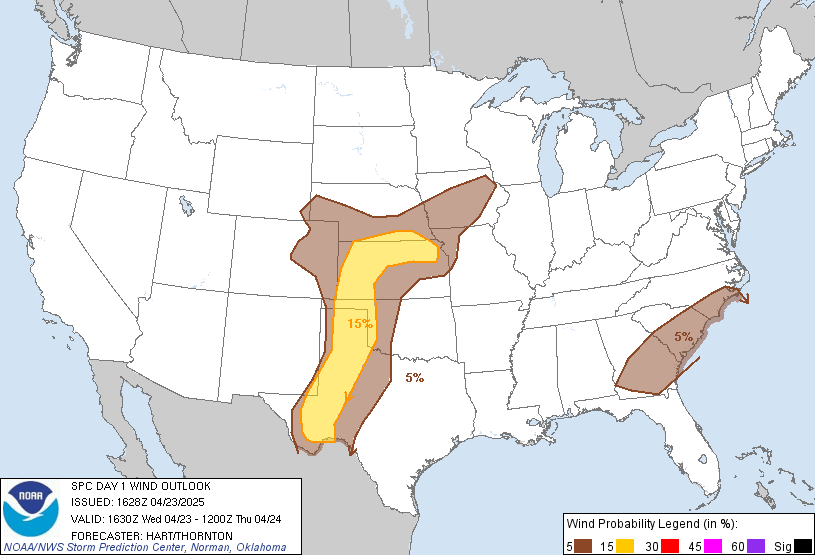 Analysis of the 12Z soundings from around the risk area indicate some weak lapse rates, and an inversion layer from the surface to the 925 mb level.    Upon analysis of the current run from the SREF model from the SPC forecast tools page, various severe weather parameter values indicate MUCAPE values of only around 500-700 j/Kg at the most.  0-1 km helicity values are forecast to each between 400-500 over the risk area…this is forecast to shape up later this afternoon into early evening.  Any significant daytime heating would increase the destabilization of the atmosphere.  This information, combined with information contained in the outlook text leads me to believe the strongest threat for a severe incident, or any tornadic activity should remain within the targeted Tornado Probability area, possibly slightly further west to include a small portion of eastern OK.
I will probably be on and off today…please utilize the SPC and NWS Hazards maps for the latest real time information on Watch areas, Warnings for your area, and Statements and Advisories from your local NWS office.  It's easy!, just click on your state on the NWS Hazards Map.  Residents under the risk area should monitor NOAA Weather Radio if they own one.
SPC CURRENT MESOSCALE DISCUSSIONS DISPLAY

INTELLICAST DOPPLER RADAR LOOP

The SPC has also issued a SLIGHT risk for Severe Thunderstorms in the Day 2 Convective Outlook.
The current low that is moving toward the NE responsible for the risk, will be deepening quickly, and will bring snow and winter precipitation to the Great Lakes area, and portions of PA., NY, and Northeast.  Folks to the SE of the Great Lakes should expect some Lake Effects Snow, and winter precipitation in general as moisture comes in on the backside of this low, with extremely cold temperatures.
As indicated in the following maps, There may be a period of Blizzard Conditions over the Great Lakes region given the wind velocity of around 35-40 mph in small areas.
Based on the GFS 06Z run, the 32F line extends pretty well south over the n ext 72 hours. However it appears a quick rebound is in order, as a high pressure system is forecast to progresses eastward over the Gulf Coast area, bring in warmer temperatures on its western periphery, and an increase in moisture.
GFS 120 HOUR ACCUMULATED SNOWFALL

ETA 84 HOUR ACCUMULATED SNOWFALL

GFSX MINIMUM TEMPERATURE FORECAST

Have a blessed day!
T. F. "STORM" WALSH III
GMCS, USCG (ret)
METEOROLOGIST / HURRICANE SPECIALIST
MEMBER WEST CENTRAL FL AMS 
CERTIFIED SKYWARN OFFICIAL STORM SPOTTER (advanced)
CoCoRaHS OBSERVER