Good day everyone!
Models continue to trend eastward on the upcoming low over the next 2 days, which in turn, will keep the high winds and seas offshore.
The Arctic Oscillation is still trending negative, which will allow for some Arctic air to intrude somewhat southward over the western one third of the country.  Upon analysis of the minimum temperature forecast, and moderation of the ensemble forecast for the AO, I am not expecting this to be a blast of very cold air…in fact, it may even be more inline with a very cold cP airmass, especially for the SEUS and Eastern Seaboard states.
ARCTIC OSCILLATION ENSEMBLE FORECAST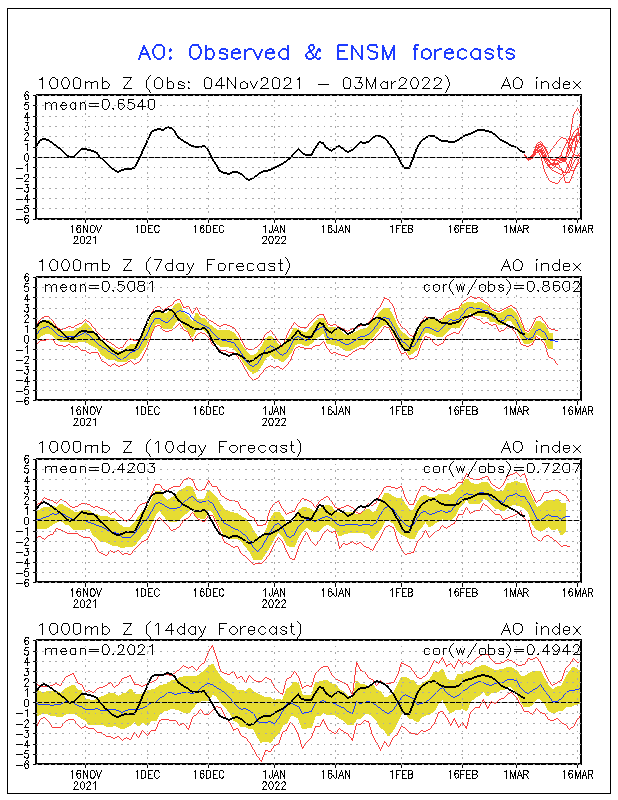 GFSX MINIMUM TEMPERATURES FORECAST

Any snowfall still looks to be confined pretty well north over eastern portions of the U.S., and the heaviest accumulations being around the Great Lakes region, and westward.
ETA 84 HOUR ACCUMULATED SNOWFALL



GFS 120 HOUR ACCUMULATED SNOWFALL

The Storm Prediction Center (SPC) Norman, OK. does not indicate any severe weather risk for today.  SPC does however indicate an issuance for a SLIGHT risk of severe thunderstorms in the Day 2 and Day 3 Convective Outlooks.
SPC DAY 2 CONVECTIVE OUTLOOK (LINKED)

SPC DAY 3 CONVECTIVE OUTLOOK (LINKED)

INTELLICAST AND NWS DOPPLER RADAR LOOPS (LINKED)

Upon performing further analysis of surface, 500 mb, and upper air maps, I am still not totally willing to rule out a probable chance for severe weather threat to shift northward on Thursday, possibly around or south of the Ohio Valley Region.  The area will be under the exit region of a jetstreak, and a fairly strong 500 mb flow.  The forecast surface features indicate WAA to the east of the low which will develop and move NEWD, and CAA on the western side of the front.  This may not pan out, but looking at the information, I believe this to be a fair assumption, and will monitor this further for any addition to the Outlooks.
Have a blessed day!
T. F. "STORM" WALSH III
GMCS, USCG (ret)
METEOROLOGIST / HURRICANE SPECIALIST
MEMBER WEST CENTRAL FL AMS 
CERTIFIED SKYWARN OFFICIAL STORM SPOTTER (advanced)
CoCoRaHS OBSERVER