Good day everyone!
I hope everyone had a wonderful Easter!
The Storm Prediction Center (SPC) Norman, OK. has issued a SLIGHT risk of Severe Thunderstorms for portions of the ARKLATEX REGION TO S-CENTRAL/SW TX…
Based on my analysis of the 12Z soundings from around the risk area, severe parameters were not really significant.  However, some significant daytime heating is expected today, and it appears the highest probable time for onset of any severe thunderstorms will be close to very late afternoon to early evening (4:00 p.m. – 8:00 p.m. CDT), based on analysis of the GFS and NAM – WRF model solutions from F5 DATA Severe Weather Software.  Based on forecast severe weather indices and parameters, data supports the SPC forecast.  The greatest probability of supercell / rotating thunderstorms and isolated tornadoes lies in the outlined area in the following map:

The greatest probability for multi cell, or linear mode thunderstorms may occur within the following outlined area:

The greatest  threat based on these early morning soundings and forecast indices should be hail and damaging straight line winds.
The following maps are linked and you may retrieve up to date severe weather information by clicking on them.
SPC CONVECTIVE WATCHES DISPLAY

SPC MESOSCALE DISCUSSIONS DISPLAY

NWS NATIONAL HAZARDS MAP… CLICK ON YOUR STATE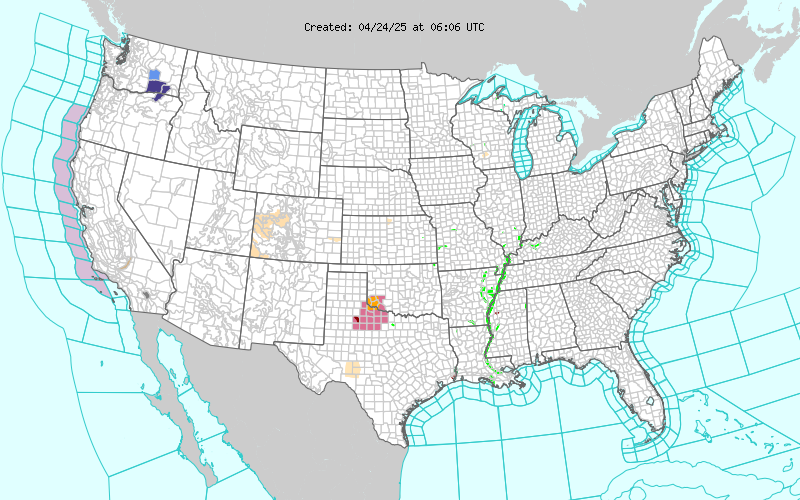 Have a blessed day!
T. F. "STORM" WALSH III
GMCS, USCG (ret)
METEOROLOGIST / HURRICANE SPECIALIST / SEVERE WEATHER SPECIALIST
MEMBER WEST CENTRAL FLORIDA AMS
CoCoRAHS OBSERVER
OFFICIAL SKYWARN SPOTTER (ADVANCED)