You may click on the graphics for animations and close in views

YOUR DONATION IS NEEDED…
Your donation helps keep this site operational.  Funds assist in web hosting, weather software purchases and upgrades, and monthly professional site subscriptions (advanced computer model products for various forecast tools, Severe weather forecasting tools, etc.)

UPDATE…10:40 P.M. EDT…INVEST 99L DESIGNATED.  The following information was available from the ATCF BTK tracking information:

LOCATION: 15.1N…80.9W
MOTION…W 10 MPH
MAX SUSTAINED: 25 MPH
PRESSURE: 1009 MB / 29.80 IN
SPECIAL TROPICAL WEATHER OUTLOOK UPDATE…ISSUED 4:25 P.M. EDT:
Good late afternoon all!
There are some changes that have recently occurred during the past 2 hours regarding the areas of disturbed weather in the GOMEX and in the Caribbean Sea.
The area of disturbed weather in the GOMEX has recently begun to consolidate convection.  Analysis of satellite loop imagery indicates convection appears to have become slightly better organized, however this may be just confined to the mid levels at he moment.  I have been analyzing satellite over the past few hours, on and off, and so far, I cannot establish a low level circulation
However, analysis of the current update vorticity maps indicate a slight increase of vorticity at the 925 mb and 850 mb levels, with the vorticity having become more vertically stacked.  This MAY indicate that a surface circulation may be trying to slowly develop.
PSU E-WALL 925 MB VORTICITY MAP

CIMSS 850 MB VORTICITY MAP

The current wind shear map indicates wind shear has weakened, and more of an upper level anticyclone has taken shape.  The updated 12Z run of the wind shear forecast map indicates that upper level winds may continue to become more conducive during the next 24 hours.
I do not believe at this particular time that development is imminent, however steering currents have weakened somewhat over that particular area, and I do believe should this area stall, and sit out over the Gulf for more than 24 hours, and if the favorable conditions pan out, should a low level circulation become evident, there is a very slim probability we could see more organization close to depression status prior to everything moving inland.  Not that this is a big deal, however the more consolidated and robust the convection becomes, the more chance for some flash flooding near the area this comes in.
INTELLICAST DOPPLER RADAR LOOP

The area of disturbed weather in the Caribbean that was located just south of the eastern portion of Hispaniola, is no longer under scrutiny…as the energy and vorticity has consolidated itself over the past couple of hours more in the central Caribbean Sea and is located approximately near 14.0N…80.5 W and is currently moving to the WNW.
Looking at the last 2 -3 frames of satellite loop imagery, this disturbance has become slightly better organized.  Upper level winds are marginal at this time.  Upper level winds may become more conducive for further development as this reaches the Yucatan / BOC area in a few days, then are forecast to become unfavorable at approximately 4 -5 days from now.
Based on current steering, I believe this may be allowed to travel a little further north before more of a WNW flow begins.  If so, his could enter the more northern edge of the NHC Graphical Tropical Weather Outlook hatched area.
NHC GRAPHICAL TROPICAL WEATHER OUTLOOK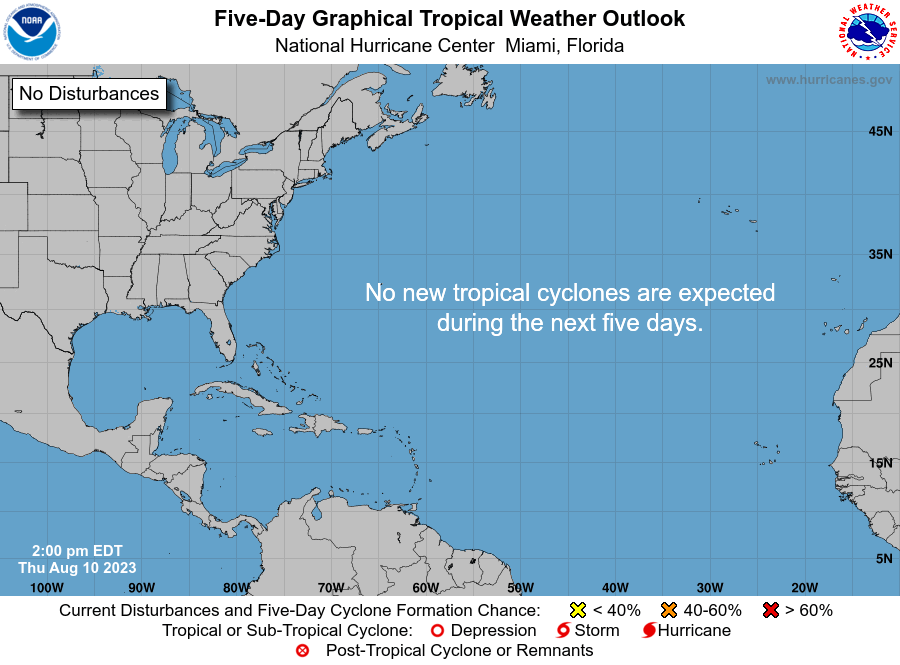 It is unknown right now how much further this may improve over the next 48 hours, however I believe most of any further development if any, will occur prior to this disturbance entering the BOC.
 I will continue to closely monitor this area and the GOMEX, as we have just seen as I always preach, conditions CAN change without notice.
"Storm"
Good day everyone!
The Tropical basins are somewhat active as of analysis time.  However, there is nothing even remotely organized at the moment.
NHC GRAPHICAL 5 DAY TROPICAL WEATHER OUTLOOK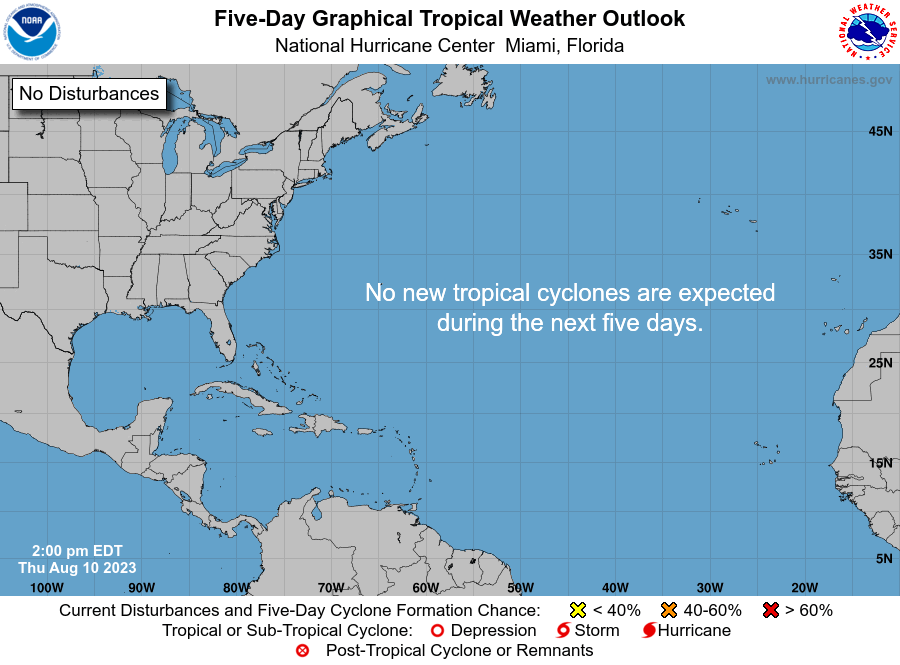 Lets begin close to home.  A surface trof draped across Florida and into the GOMEX, interacting with a tropical wave axis to the south, is producing disorganized shower and thunderstorm activity over the extreme northern Gulf, being enhanced mainly by a diffluent flow aloft:
Current vorticity maps at the 925 mb and 850 mb level suggest that a surface low may be trying to take shape.  However analysis of the current wind shear product from CIMSS indicates upper level winds to be marginal at best at the moment.
PSU E-WALL 925 MB VORTICITY SATELLITE OVERLAY MAP

The most recent update of the wind  shear forecast indicates upper level winds may become somewhat more conducive over the W. GOMEX in about 24 hours.  Albeit I am not expecting development of this area, at least anytime soon, I will continue to monitor this area, should conditions become more favorable than forecast at the moment, and for the possibility of some organization before the area moves ashore.  Right now, low level steering indicates this whole area should continue off to the NW at around 10 – 15 mph, which would put everything inland during the next 48 hours.  Residents along the Texas coastal areas should be aware of  rip currents being produced by this activity.
NWS HAZARDS MAP (LINKED TO CORPUS CHRISTI NWS)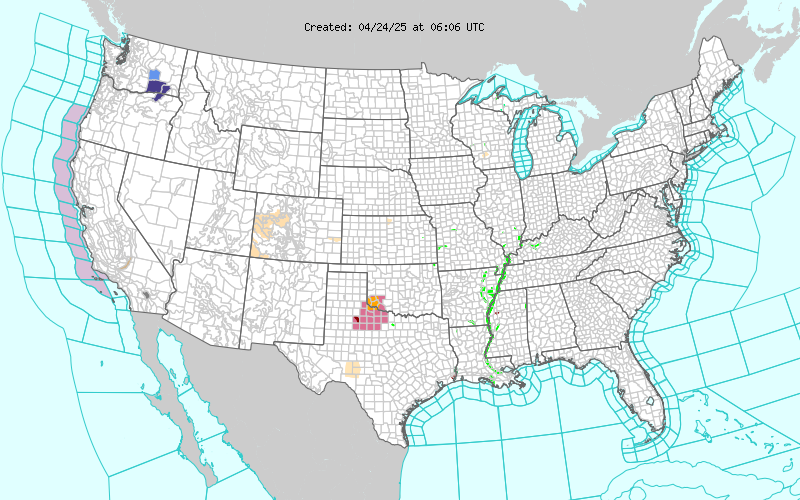 INTELLICAST BROWNSVILLE TX DOPPLER RADAR LOOP

An area of disturbed weather located in the central Caribbean sea remains disorganized as of analysis.  This area is what remains of the previous 97L.  Currently, the area is under 20- 25 kts of westerly shear. 
CARIBBEAN SATELLITE LOOP IMAGERY

The current wind shear forecast, based on the GFS zonal shear forecast map indicates this disturbed weather should remain under wind shear during the next 72 – 84 hours.  Now, based on the Graphical Tropical Weather Outlook from the NHC this morning, they locate this area near the Yucatan Peninsula / BOC area in about 5 days.  SHOULD this disturbance enter that region, upper level winds could become more conducive for development.  However, based on my analysis of the current low level steering from CIMSS, and forecast steering layers maps from the PSU e-WALL site, this may track further north, and could possibly enter the Yucatan Channel area, and into the GOMEX in about 4 – 5 days.  As it stands at the time of analysis with the products available, should this scenario occur, the disturbed weather would continue to be under unfavorable conditions.  I will continue to monitor this area for any significant changes in the wind shear pattern and organization over the next 72 hours.
CURRENT STEERING LAYER MEAN 700 – 850 MB

Elsewhere, the Tropical Wave that exited the African continent is barely discernible in satellite imagery.
EUMETSAT SATELLITE LOOP IMAGERY



There really isn't any convection to speak of with this wave, at least right now.  Conditions are not conducive at this time, however looking at the wind shear forecast, upper level winds may become more conducive starting in about 72 hours from now. The steering forecast indicates this wave should continue toward the west during the next 72 – 96 hours.  I will continue to monitor this wave as it continues toward the west, for any significant changes.
I must say…this has to be one of the strangest seasons I've seen for being an ENSO neutral event with a warm bias.  Parameters still indicate the teleconnection between the oceanic and atmospheric areas of the Pacific have not occurred.  However, here in the Atlantic basin, you'd swear we were in an El Nino pattern.  Here we are in the "busiest" time of the season, climatologically speaking, and it just looks pathetic out there.  Usually, there are tropical waves just lined up over Africa from now, through the peak.  But, as you can see, the lack of convection, the continued dry air, and yes, some SAL is just somewhat mind boggling for this time of the season.  Right now, the dry air cannot be attributed to the subtropical ridge causing subsidence, as it has been, and is currently, not that strong.  The only other thing that I can think of is, the cooler SST anomalies in the MDR, which are currently ranging only 0.5C above average, as compared to the area north of 20N, the GOMEX, and the EPAC.  I know this may not seem significant, however mother nature "sees" these differences to relative, and the most net lift in the atmosphere is going to be where I just mentioned.  Other than that, this could wind up becoming a "back weighted" season, in that we see more activity in October and November with fronts that could stall, or trof splits in where energy breaks off and develops as a "hybrid" system.
CURRENT OPERATIONAL SST ANOMALY MAP

I will try to have another update in the morning prior to leaving for work.
Have a blessed day!
T. F. "STORM" WALSH III
GMCS, USCG (ret)
METEOROLOGIST / HURRICANE SPECIALIST / SEVERE WEATHER SPECIALIST
MEMBER WEST CENTRAL FLORIDA AMS
CoCoRAHS OBSERVER
OFFICIAL SKYWARN SPOTTER (ADVANCED)