ALL forecasts contained on this site,  are based on my analysis and knowledge of various forecast tools, including information contained in NHC products, and are not copies from any other entity.
You may click on the graphics for animations and close in views
Your donation helps keep this site operational.  Funds assist in web hosting, weather software purchases and upgrades, and monthly professional site subscriptions (advanced computer model products for various forecast tools, Severe weather forecasting tools, etc.)
Good day everyone!
Tropical Depression TWO continues to move toward the west this morning.  The following information was contained in the NHC 5:00 a.m. EDT advisory:
5:00 AM AST Wed Jul 23
Location: 13.9°N 53.2°W
Moving: WNW at 20 mph
Min pressure: 1012 mb / 29.89 in
Max sustained: 35 mph
NHC TRACKING MAP AND PUBLIC ADVISORY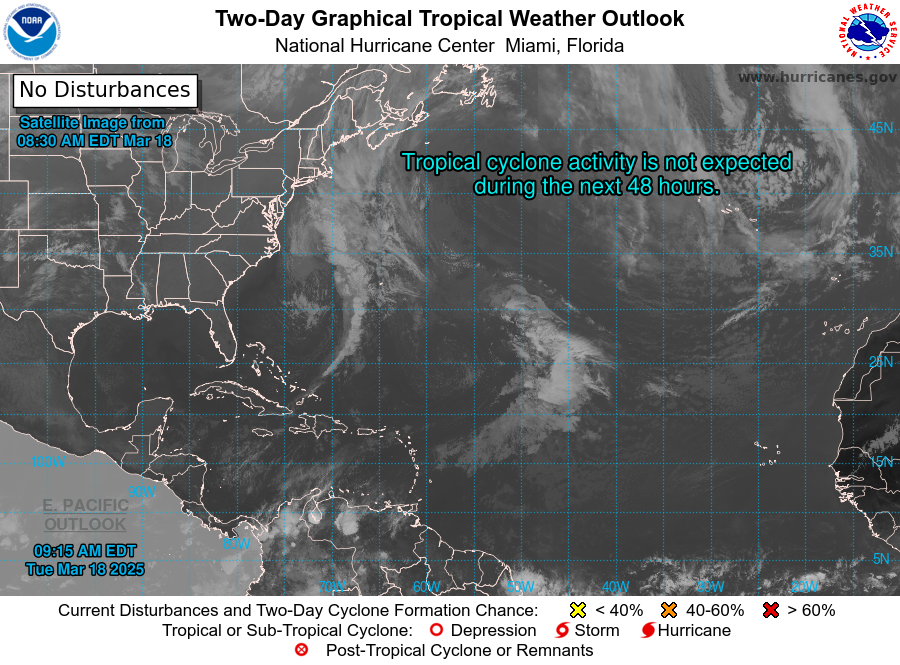 Based on analysis of various satellite loop imagery, current steering mean, and recent forecast steering layers maps, the subtropical ridge has been a little stronger than anticipated over the past 48 hours, and the system has been weak, hence the continued westward motion.  However, the current steering layer mean does show a weakening in the western periphery of the ridge, and a more WNW motion should ensue over the next 24 hours.  Based on these analyzed parameters, this would explain the westward shift in the dynamic model guidance, with a sharper WNW motion indicated later on.  After analyzing these parameters, I concur with the NHC Forecast Track.
Analysis of current satellite loop imagery indicates the depression may be falling apart, due mainly to dry air intrusion, and the fact wind shear values are beginning to increase.  In fact, if you look at the second loop (IR2 Shortwave) you can definitely detect a decrease in convection.  Based on the current wind shear forecast, the depression will continue to encounter an increase in wind shear, and having analyzed various satellite loop images, it would not surprise me if this system degenerates into an open wave by sometime late this afternoon to early evening.  In this case, it will not really matter what the guidance models show as far as track.
TROPICAL DEPRESSION TWO FLOATER SATELLITE LOOP IMAGERY

Elsewhere, an area of thunderstorm activity is noted just offshore of the Louisiana coast.  However, this is associated with a stalled frontal boundary at this time, and is mainly mid and upper level at the moment.  I'm going to monitor this, albeit I am not expecting development at the moment.
Global models do not indicate any development over the next 7 – 10 days.  In fact, it's going to be tough to get anything going in the MDR, as it's just too dry out there.  We still have a big deficit in Vertical Instability over the MDR.  This is not to say we couldn't see anything in the ITCZ, but for a system to really get going, it would have to detach, and with the lack of instability…well…look at T.D. 2!
There could be somewhat of a probability by the beginning of Aug., more likely closer to the beginning of the second 10 days of the month, should the MJO traverse through Octants 8 & 1 based on the Multivariate Index.  As of right now however, we are still dealing with the effects of the SAL, and the subtropical ridge being strong enough to continue providing subsidence, and allowing for the MDR to remain cooler than average.
MJO MULTIVARIATE INDEX FORECAST

SST ANOMALIES

SAL IMAGERY (MID LEVEL WATER VAPOR)

Have a blessed day!
T. F. "STORM" WALSH III
GMCS, USCG (ret)
METEOROLOGIST / HURRICANE SPECIALIST / SEVERE WEATHER SPECIALIST
MEMBER WEST CENTRAL FLORIDA AMS
CoCoRAHS OBSERVER
OFFICIAL SKYWARN SPOTTER (ADVANCED)