ALL forecasts contained on this site,  are based on my analysis and knowledge of various forecast tools, including information contained in NHC products, and are not copies from any other entity.
You may click on the graphics for animations and close in views
Your donation helps keep this site operational.  Funds assist in web hosting, weather software purchases and upgrades, and monthly professional site subscriptions (advanced computer model products for various forecast tools, Severe weather forecasting tools, etc.)
Good day everyone!
The Tropical Wave I have been monitoring in the CATL (Central Atlantic) has become much better organized since yesterday afternoon.  Based on this, the ATCF / NHC have designated this as Tropical Disturbance INVEST 93L.
The NHC in Miami has increased the probability of the disturbance becoming a tropical cyclone to MEDIUM (30%) over the next 48 hours, and HIGH (70%) through 5 days.
NHC GRAPHICAL TROPICAL WEATHER OUTLOOK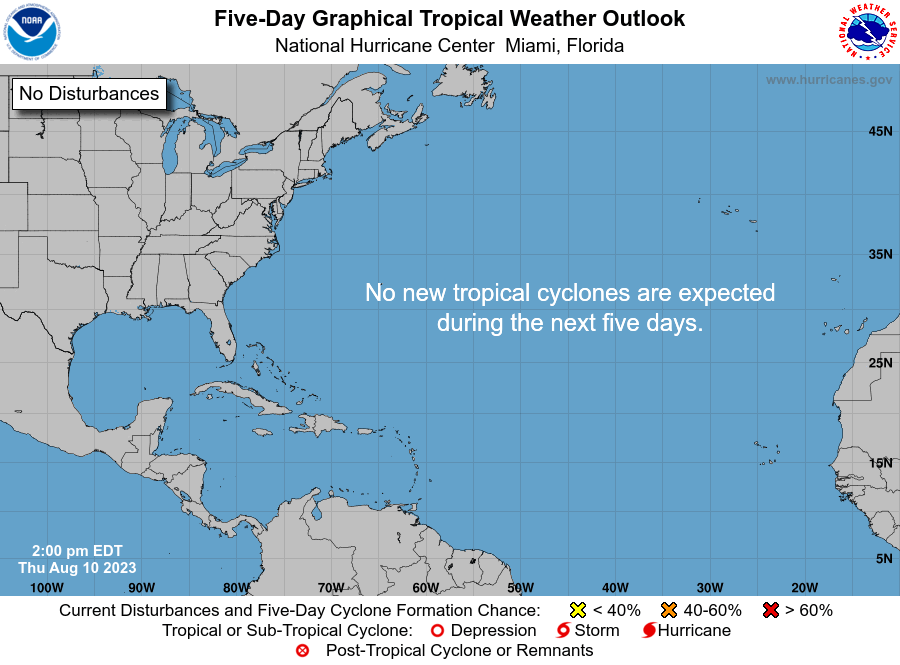 Based on the current ATCF FTP information updated at 12Z, the following information was available on the disturbance:
LOCATED: LAT. 10.0N…LONG. 32.5W
MOVEMENT: W 13 MPH
MAX SUSTAINED WIND: 25 MPH
PRESSURE: 1011 MB / 29.85 IN.
Satellite loop imagery indicates the disturbance is becoming slowly better organized with numerous overshooting cloud tops noted.
CATL AND INVEST 93L FLOATER SATELLITE LOOP IMAGERY



Currently, the disturbance is within a semi-favorable environment, as upper level winds are allowing for ventilation of the system to its north and east side.  Analysis of the recent wind shear forecast from the GFS indicates that upper level winds should become more conducive for development during the next 48 – 72 hours.  Based on the 4 – 5 day shear forecast at the moment, INVEST 93L should remain in a fair outflow pattern aloft during the next 5 days.  Save any ingestion of the SAL, based on analysis of forward speed and wind shear forecast, I concur with the NHC tropical cyclone formation probability, and we could see a Tropical Depression within the next 72 hours.
GFS WIND SHEAR FORECAST AND 200 MB STREAMLINES

Based on the wind shear forecast, and once again, provided dry air intrusion is not a factor, I cannot rule out Tropical Storm Bertha within the next 5 – 7 days.  In fact, the forecast intensity models are in fair agreement in development of a Tropical Storm.
ATCF INTENSITY FORECAST MODELS

INVEST 93L is currently moving generally to the west (a little more south of west), and I expect this motion to continue over the next 72 – 84 hours, before a more WNW tack occurs.  This should bring the disturbance close to the  northern Leeward islands in about 6 days.  This turn should occur, as not only some of the global models, but the forecast steering layers maps indicate a fairly moderate weakness in the ridge, with a trof positioned over the eastern U.S. days 6 – 10.  Dynamic Model track guidance hasn't run enough yet to give a good track, however based on Statistical Guidance, I am between the BAMS and BAMM track at the moment.  One word of caution…models seem in good agreement of a recurve on this, which is probably the most plausible scenario at the moment.  However, in my experience as a forecaster, steering currents can change with little notice.  Interests from the Leeward Islands to the Greater Antilles should monitor the progress of this system for any significant changes during the next 72 hours.
STATISTICAL MODEL TRACK GUIDANCE

I will continue to monitor INVEST 93L, and will try to have an update sometime this evening.
Elsewhere, Tropical Storm formation is not expected during the next 5 days.
Have a blessed day!
T. F. "STORM" WALSH III
GMCS, USCG (ret)
METEOROLOGIST / HURRICANE SPECIALIST / SEVERE WEATHER SPECIALIST
MEMBER WEST CENTRAL FLORIDA AMS
CoCoRAHS OBSERVER
OFFICIAL SKYWARN SPOTTER (ADVANCED)